Career Opportunities within Tillys Play and Development Centres
At Tillys Play and Development Centres we are dedicated to providing the best quality care and education available through the use of modern and up to date equipment and facilities and dedicated qualified staff, because at Tillys we believe that "Good Beginnings Never End". If you are passionate about providing the best quality care and education to children and would like to begin your career with us send your resume to: amy@tillyschildcare.com.au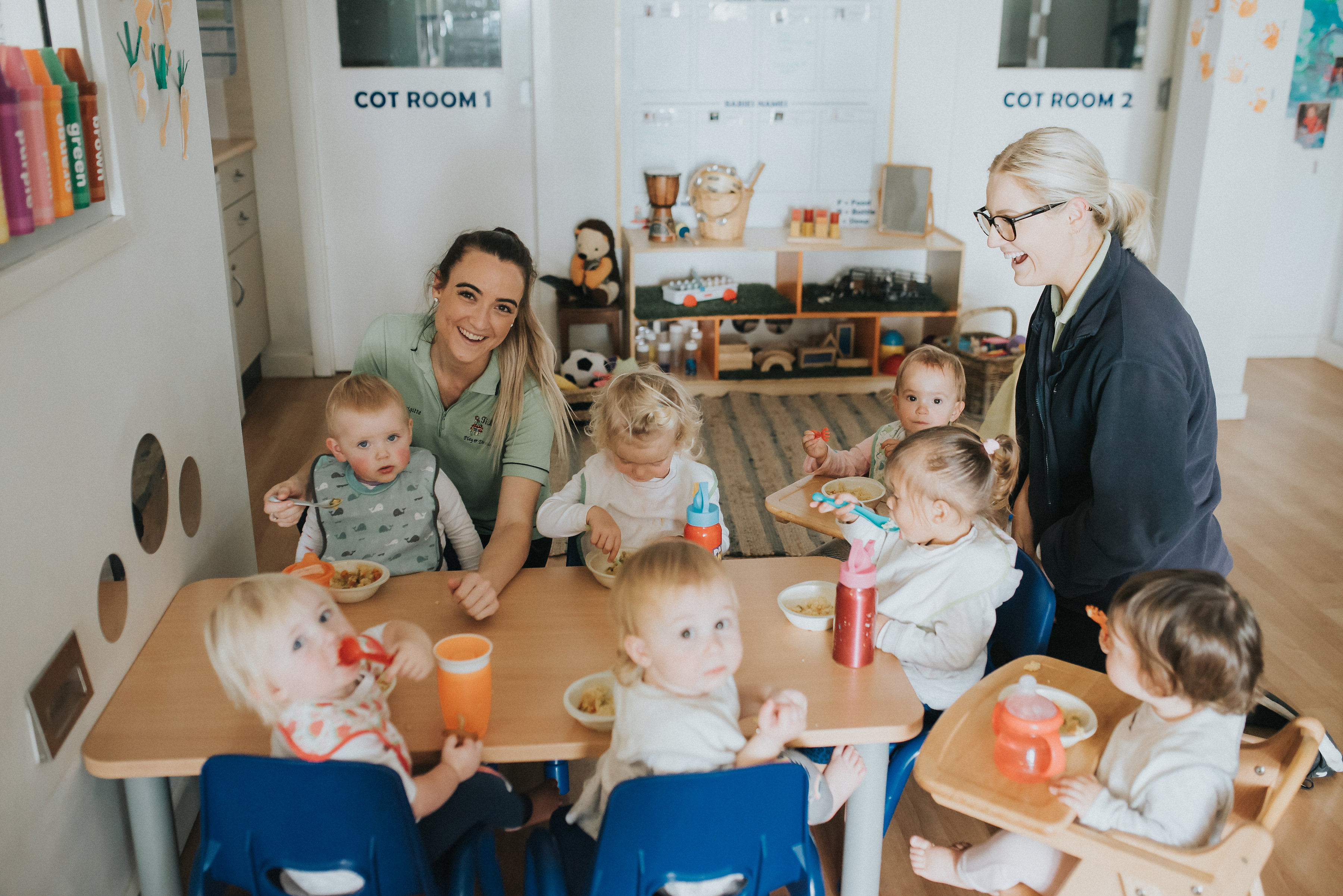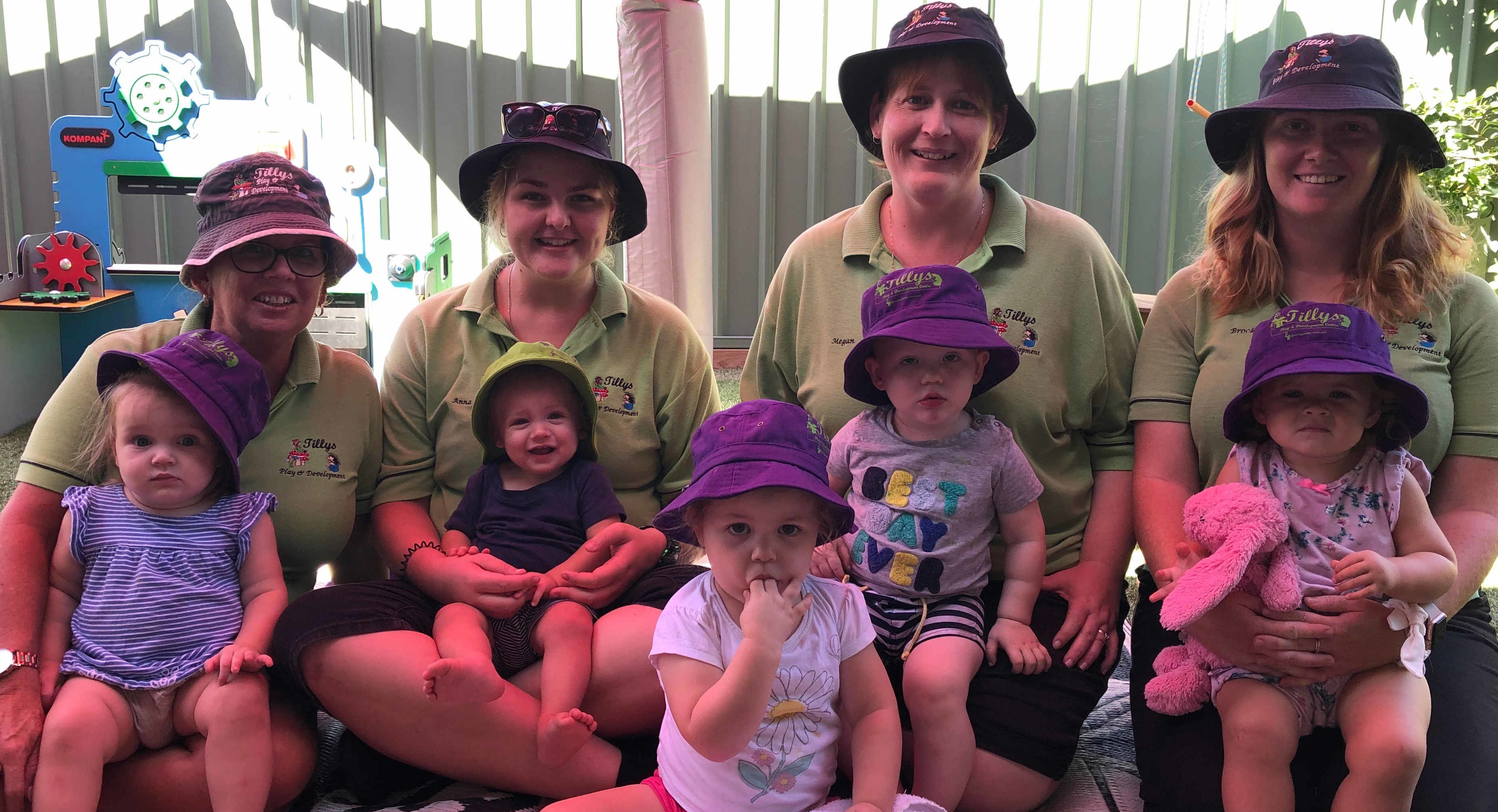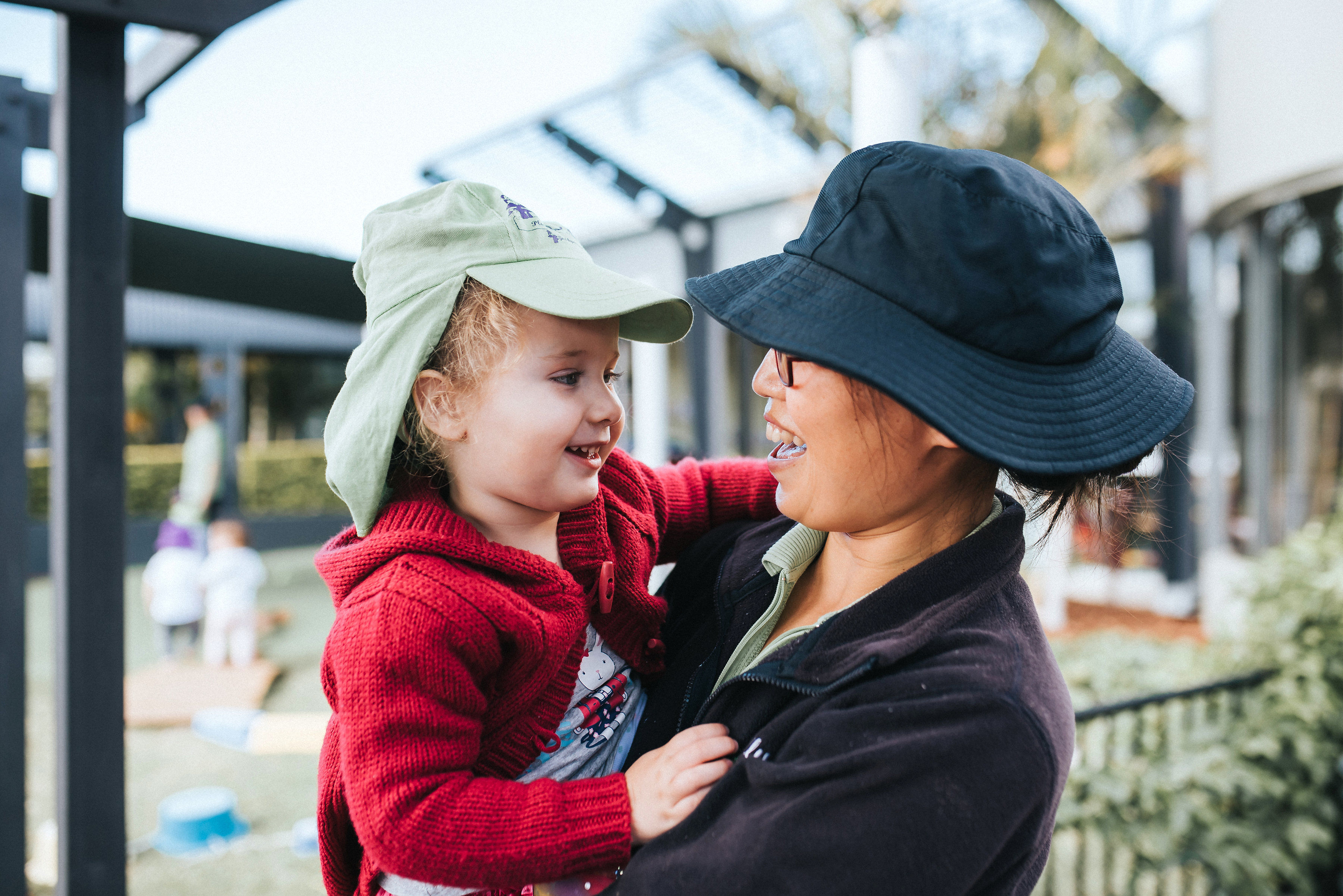 If you have passion, enthusiasm and a strong commitment to high quality care and education click here.
We are currently recruiting for the following positions:
All Centres: Casual Educator Certificate III or Diploma Qualified – On Call 5 days per week.
Abermain: Certificate III Trainee position – 5 days/20 hours per week
Bolwarra: University Trained Early Childhood Teacher OR Diploma Qualified educator – 37.5 hours/week
Cardiff: Certificate III Trainee position – 3 days/27 hours per week.
East Maitland: Diploma qualified Educator – 5 days/37.5 hours per week.
East Maitland: Cleaner position – 4 days/10 hours per week.
East Maitland: University Trained Early Childhood Teacher – 40 hours/week (Flexible days – either 4x 10 hours or 5x 8 hours)
Fern Bay: Cook position – 5 days/21 hours per week.
Muswellbrook: Part time University Trained Early Childhood Teacher.
Rutherford: University Trained Early Childhood Teacher – 38 hours/week
Singleton: University Trained Early Childhood Teacher OR Diploma Qualified educator – 4 days/32 hours per week
Waratah 1: Traineeship position – 22.5 hours/week.
Waratah 2: Traineeship position – 5 days/38 hours per week.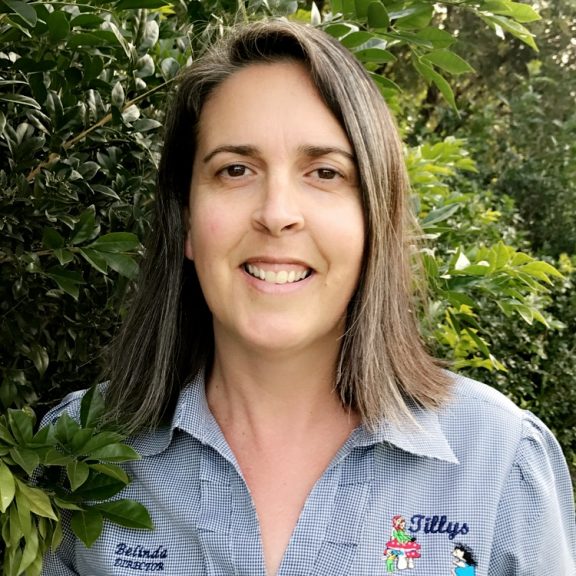 Meet Belinda:
I joined the Tillys team at our Muswellbrook centre as an educator in January 2012 after the birth of our fourth child.  I then became the Director there in 2014 returning to full time work as my own children grew older.  In 2016 I transferred as the director to  our Greta centre and in July 2018 I moved into the Educational Advisor/Area Manager role working with all of our centres supporting them in their programming and practice to ensure they are working with knowledge of the most up to date research and best practice.
My passion is child-led play based learning in early childhood along with strong, positive relationships with children, educators, families and communities that foster best outcomes for children. I advocate for children's rights, the best interests of children and for supportive and inclusive environments that empower those involved and encourage others to join.  I am committed to continually learning, gaining new knowledge and continuing to grow as an educator. I have the strong belief that 'Good beginnings never end' and attribute to supporting a lifelong journey of learning.
My career with Tillys and relationships with other educators, leaders and management pushes me to be the best early childhood teacher I can be,  empowers me as an educator, inspires me as a leader and supports me as an employee.
Meet Olivia:
I have been working for Tillys since 2013. I started off studying my Certificate III through Tillys College of Childcare within one of our long day care centres. Whilst studying at the college at our Greta centre, I fell in love with the industry and enjoyed helping to build relationships with families and children to assist them in learning and growing in their early years. After finishing my Certificate III, I was offered a causal position at the centre, before eventually becoming a permanent educator in the 0-2 Nursery. Whilst working in our Greta centre I was offered the opportunity to further my studies through a Diploma traineeship with Tillys College of Childcare. I was very excited about this and jumped at the opportunity to further my knowledge and skills in this area and learn more about Early Childhood Education and Care. In 2016 I completed my Diploma traineeship and became the room leader of a 0-2 nursery within our Bolwarra centre. Here I was able to lead the program and curriculum in the room with the assistance of other educators. After a year in this role I then was offered a 2IC position at our Bolwarra centre. During my time in this role I developed my knowledge even further and found a passion for leading and supporting a team of enthusiastic and commited educators. Since developing these essential skills, I have been able to transfer to our Waratah 1 and then our Waratah 2 service as their Centre Director and Nominated Supervisor.
I am so lucky to be a part of such a wonderful team at Tillys. They have been amazing in supporting me to grow and develop throughout my childcare career whilst also helping young minds to play, grow and develop as well.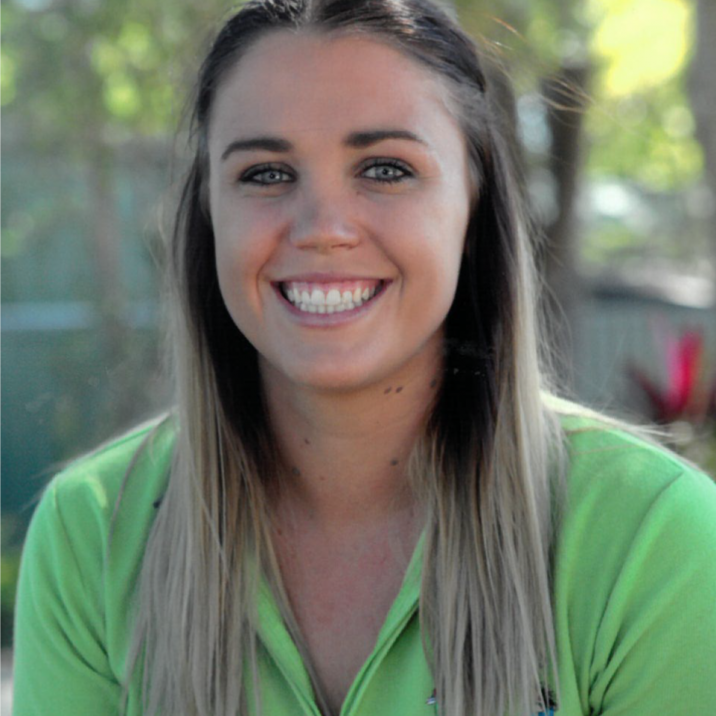 Frequently Asked Questions
How do I apply for a position at Tillys Play and Development Centres?
You can apply for a position with Tillys by using this website. Once you have found a job that you would like to be considered for simply click on the link within 'APPLY TODAY' and email your resume with a cover letter specifying which position you are interested in, a copy of your relevant qualifications and WWCC.
Do I need to complete a working with children check?
Prior to commencement with Tillys you will need to gain a Working with Children Check (WWCC) to be able to work in one of our centres. Click here for details on obtaining a Working with Children's Check.
Why should you work for Tillys Play and Development Centres?
Our aim is to ensure all staff are supported in a fun, energetic environment that encourages personal growth and development. Some of the benefits when working with us include:
Full time, part time and casual employment opportunities;
Complimentary uniform;
Excellent facilities and resources;
Paid professional development training of your choice as well as child protection and workplace health and safety training;
Replaced time off the floor for curriculum planning and documentation;
Modern approach to documentation through the online platform of StoryPark;
Laptops, computers or iPads in each room for educators;
Room for growth within the company;
Monthly staff incentives including movie tickets and gift vouchers;
Free influenza vaccinations each year;
Ongoing guidance from an extended management team with over 23 years of knowledge and experiences, and from fellow educators – some of whom have been with our company since we opened in 1994.
Career pathways
Studying through the college can help you build an exciting career pathway with Tillys. For more information about studying through Tillys College of Childcare click here.
Career progression at Tillys Play and Development Centres
Tillys is committed to supporting educators and helping them to make the most of their potential. Tillys can assist educators to upskill their current qualifications through Tillys College of Childcare. For example, an educator with a Certificate III qualification may earn their Diploma qualification through Tillys College of Childcare and work their way up to becoming a room leader.
Opportunities for Professional Development
At Tillys Play & Development Centre we believe in supporting staff professional development which offer educators the opportunity to engage in meaningful and essential learning. Our team of Educational Advisors prioritise sourcing valuable professional development courses to assist our educators to further develop their knowlege and skills in the Early Childhood Education and Care sector.
Testimonials from staff:
"Over the past few days a few Tillys staff have been building our knowledge at the annual Aboriginal Early Childhood Conference. Thank you Tillys for this fantastic opportunity. I know the others and myself are excited to share all our new knowledge when we return to work next week." – Melissa, Bolwarra.
"Definitely Mel, it was great! and great to spend time with other Tillys educators. So grateful for an awesome opportunity!" – Kate, Singleton.
"I just wanted to say a massive thank you from Tamara and Laren for sending them to the conference. They have both come in this morning early to share some of the amazing things they have seen and learnt from the weekend. The passion these two educators have coming back to work today is incredible and they are so grateful they had the opportunity to go." – Kate, Waratah 2.
The Holistic Educator: Professional Development Conference 2019
Hosted by Tillys Play and Development Centre
This year we delivered The Holistic Educator conference to educators throughout all of Tillys Play and Development services. Our aim in the organisation of this conference was to provide opportunities for educators in our local area to come together as professionals and to facilitate access to a variety of professional development opportunities. Some sessions included in the day were; Semann and Slattery – Essential skills for room leadership; Kilipiynpiyn Workshops – Aboriginal basketry workships; Farran Street Education – Understanding yourself and others; and Head and Heart Mindfulness workshops.
Next conference to be held: June 2020 (POSTPONED)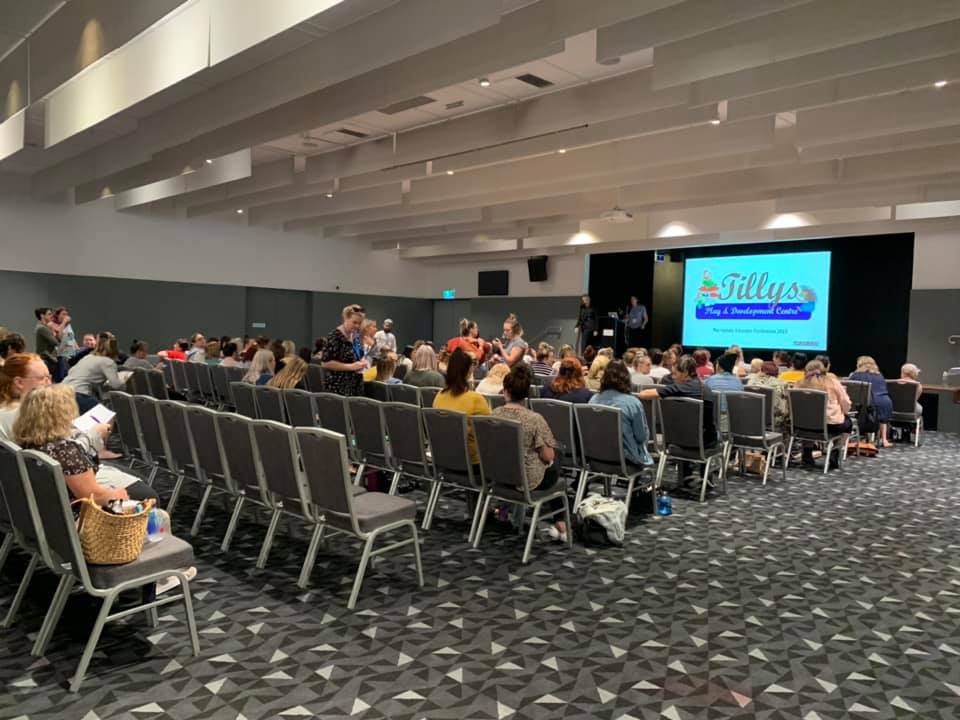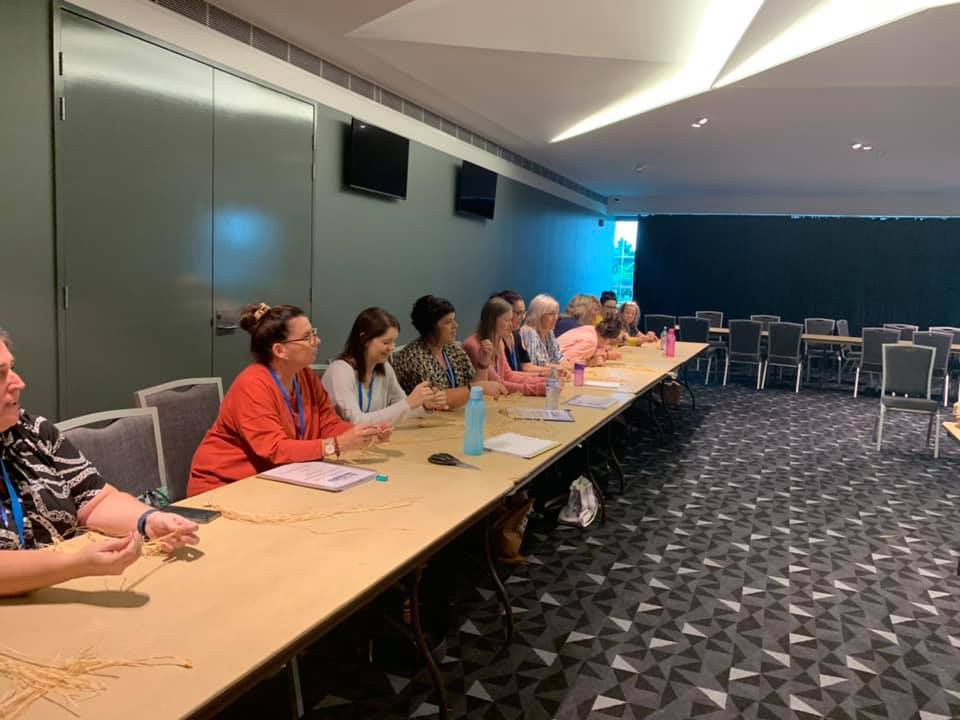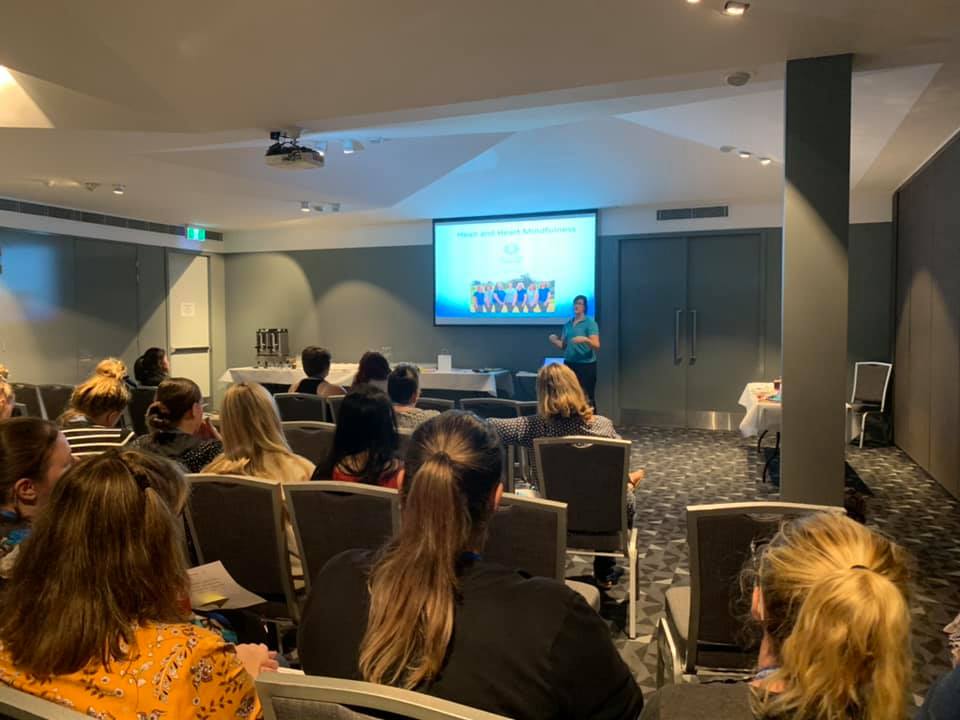 "I just wanted to email and say a big thank you for the conference on Saturday I thought it was fantastic
I am very grateful for being a part of a company that values their educators.
Thank you for everything you do for us to continue learning and growing as educators!"
– Gillian, Abermain.